On Sunday, March 13th, 2016, we had our Stewardship Sunday. Below please find our Power Point here.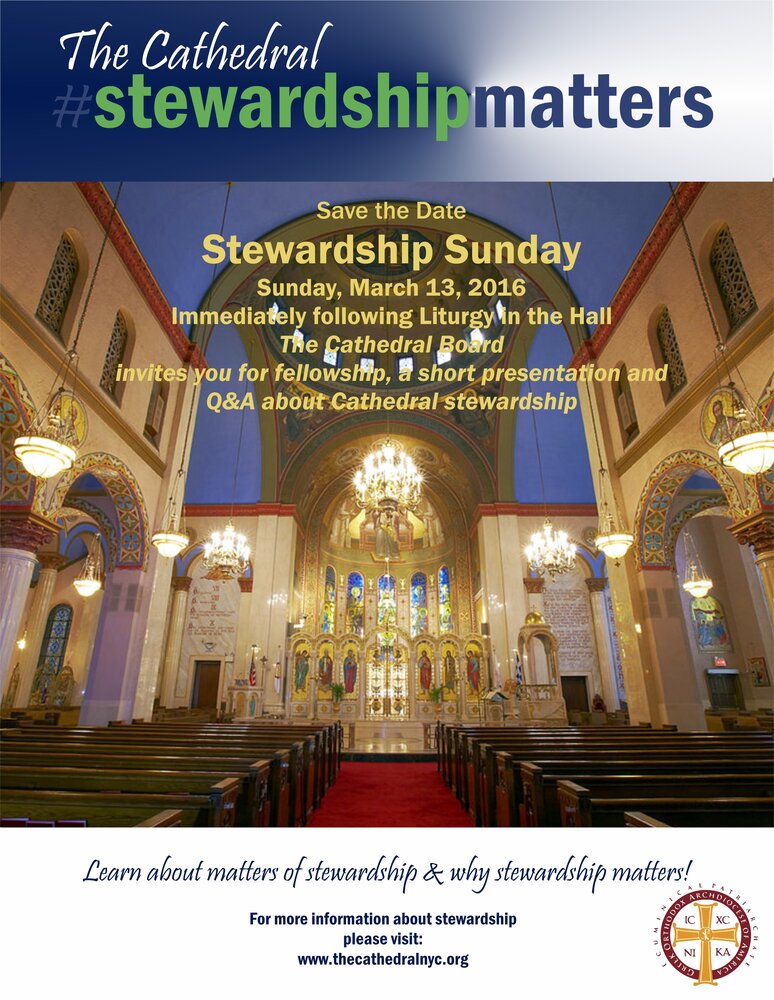 Click Here To Register For The Cathedral Golf Classic
UNIQUITY - LENTEN SERVICE PROJECT, APRIL 21 & 23
Thanks to all for your donations to Uniquity's Lenten Service Project! The Cathedral's unmarried ministry will be assembling Emergency Cleanup Buckets for Church World Service on Thursday, April 21st, at 6:30 p.m. in the Undercroft, and on Saturday morning, April 23rd, we will be driving them to CWS' drop-off point in Hempstead. Volunteers (especially those with vehicles) are needed! For further information, stop by our table at Coffee Hour or contact uniquity@thecathedralnyc.org
NOTES FROM THE CHOIR & FORTHCOMING DINO ANAGNOST MEMORIAL CONCERT
Evey Simon, our choir director, would like to invite and inform all members of the congregation that have expressed an interest and commitment to joining the choir (as this is a perfect time for doing so in lieu of upcoming events). The choir meets every Sunday, before the service, at 9:00 am to rehearse, with additional practices for Easter services and a forthcoming Lenten Concert, in memory of Dr. Dino Anagnost's five year anniversary from his passing. Our Laureate music director's memorial Lenten Concert, will be on Friday, April 22 at 7:30 PM. Please be in touch with us if you would like to be a member of the choir and participate in the concert by calling us at 212-288-3215x113 or via email choir@thecathedralnyc.org
CATHEDRAL SCHOOL CELEBRATES THE ACHIEVEMENTS OF ITS GRADUATING CLASS!
All students applying to private high schools were awarded admission to their first choices including Horace Mann, United Nations International School, Loyola, Marymount, and Columbia Prep. Students applying to Specialized High Schools such as Bronx Science and Lehman College School for American Studies and public schools such as Eleanor Roosevelt and Beacon were all successful at their first choices. Our sixth grade class also had many accomplishments. Yorgo Vetter was admitted to the elite Hunter College High School, for grades 7-12; George Chudley earned a spot on HCHS's waiting list. Sandhya Ray and Elli Ray were both chosen by the Manhattan School of Music to participate in their prestigious summer program to which people from all over the world audition. Elektra Pritchard was awarded second prize for her original play at the Writopia program while Manolis Lambrakis and Yorgo Vetter were co winners of the Archdiocese spelling bee and will compete in the regional, 8 students advanced to the fifth round!
Town Hall Meeting This Sunday during Coffee Hour
Join us as we engage in dialogue concerning issues of importance to our Cathedral and her Christ-centered ministries: All in an effort to ensure that we are meeting the spiritual needs of our Parishioners.
Thursday, January 28, 2016
On Friday, Jan. 29, at 9:00 a.m., His Eminence Archbishop Demetrios of America will officiate at the Archieratical Divine Liturgy for the Feast of the Three Hierarchs – Saint Basil the Great, Saint Gregory the Theologian, and Saint John Chrysostom at the Archdiocesan Cathedral of the Holy Trinity in Manhattan. This Divine Liturgy is traditionally attended by the students, teachers, principals and parents and of the New York City parochial day schools of the Archdiocese. His Eminence Archbishop Demetrios will address the students on the life and works of the Three Hierarchs emphasizing the importance of our Greek Orthodox faith, the Greek Letters and the Hellenic heritage. A reception will follow in the adjacent Cathedral Ballroom, during which the Archbishop will cut the Vasilopita for students, teachers and administrators.
Saturday, November 21, 2015
On Friday, November 20th, the Cathedral Philoptochos hosted their annual Chrysanthemum Ball. This year's ball honored the First Lady of the Republic of Cyprus, Ms. Andri Anastasiades. The evening was a huge success with over 600 attendees. For more information about this event and all upcoming events, please visit the Philoptochos website: ac-philoptochos.com.
Online Chapel
Divine Liturgy
May 6 9 am
Divine Liturgy
May 8 10 am
Greek Dance Troupe
May 8 12 pm
Adult Greek Dance Class
May 9 7:30 pm
Executive Board Meeting
May 10 6 pm
"You are the light of the world. A city built on a hill cannot be hid." - Matthew 5:14-16
***Please Note*** All of our services are broadcast via live-stream through our website, and can be accessed by CLICKING HERE. This includes every Sunday starting at 8:45 am, and all weekday Orthros and Divine Liturgies starting at 8:00am.
Welcome to the website of the Archdiocesan Cathedral of the Holy Trinity! Our parish has the distinguished honor to serve as the seat of the His Eminence, Archbishop Demetrios of America. As such, we are designated as the 'National Cathedral' of the Greek Orthodox Archdiocese of America, and frequently host hierarchs, diplomats, cultural figures, dignitaries and visitors from throughout the world. In addition, we offer a full schedule of Sunday and weekday divine services, sacraments and funerals. We also support a thriving Sunday Church School, The Cathedral School (an accredited institution of learning offering grades K-8), Greek Afternoon School, Philoptochos, Youth Programs, Bible Study, Greek classes, Bookstore, cultural events, social services, and fellowship. Our offices are open 9am-5pm Monday through Friday, and our Sanctuary is open every weekday from 8:00 a.m. to 2:00 p.m. for prayer. We welcome one and all to come and worship with us!
---
Worship Schedule
SCHEDULE OF SERVICES FOR THE WEEK OF APRIL 4th-APRIL 10th
Monday, April 4th...Service of Great Compline, 6pm – 7pm
Wednesday, April 6th...Presanctified Liturgy 6:00-7:00pm, followed by Lenten Lecture 7:30pm-9:00pm
Friday, April 8th...Presanctified Liturgy 9am-10:30am & Salutations to the Virgin Mary 7:00pm-8:30pm
Sunday, April 10th...Orthros 8:45am l Divine Liturgy 10am